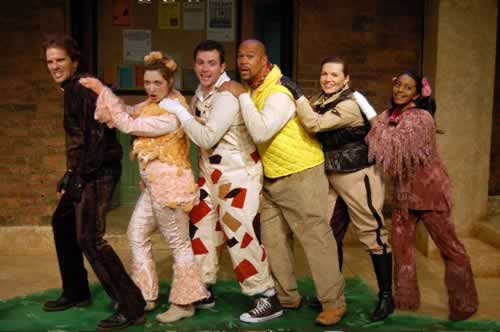 THEATER: PREVIEW
Pet project turns into a musical called `Bark!'
By Tony Adler
Special to the Tribune
Published October 21, 2005
Whatever you do, don't think of it as "Cats" with dogs. Under no circumstances do the people behind "Bark!" want their musical conflated with the glitzy blockbuster by Andrew Lloyd Webber. If anything, they'd much prefer you think of their show as a canine "A Chorus Line."
In "A Chorus Line," workaday dancers tell their stories while gathered in a bare theater, auditioning for a Broadway show. "Bark!" -- which begins Friday night at the Chicago Center for the Performing Arts -- takes a similar tack, but its furry characters are gathered in a dog pound. And if they don't pass the audition for adoption -- well, let's just say they'd better pass the audition.
And they know it, suggests the show's director and choreographer, Kay Cole, a fifty-something pixie who believes she was a mutt in a previous life. "Animals always know what happens, no matter what anybody says."
Talking during a break in rehearsals, Cole and "Bark!" composer David Troy Francis make it clear that their exercise in anthropomorphism is meant partly to draw attention to the estimated 2 million dogs put to death each year in American shelters (that figure according to People for the Ethical Treatment of Animals). But only partly. Though they hope "Bark!" will move audiences to do something about animal euthanasia, their first intent is to communicate, as Francis puts it, "one small measure of the joy that animals bring to us on a daily basis."
"I'm a real animal person," says Cole, "and I'm always eager to be involved with productions that not only are artistic but have a contribution to make. And certainly I think this piece makes a contribution in terms of embracing not only the essence of animals but [the idea] that human beings should not dismiss the importance of the dog in their life."
Francis got the inspiration for "Bark!," which has been running for a year in Los Angeles, during the spring of 2001 while working on a 15-minute "mockumentary" film called "Dogs," about actors who play pooches in "the longest-running off-off-off-off-Broadway show in history." A pianist best known for performing and recording works by contemporary American composers such as Ned Rorem, Francis wrote four songs for the fake-musical-within-a-fake-film-within-a-comedy. Two of those songs ultimately found their way into "Bark!"
"I loved the idea [of a musical about dogs]," says Francis, a puppyish 53-year-old who seems never merely to like anything he can love. "I was working on two others but I stopped and started developing this."
He had help from five lyricists -- particularly Gavin Geoffrey Dillard, who publishes poetry as the Naked Poet, and Robert Schrock, who created the gay-oriented stage hit "Naked Boys Singing."
Cole came on board after an initial workshop production. "She called me to say she'd like to throw her hat in the ring to be considered for choreographer," Francis remembers. When Francis took her contact information, he noticed that she lived on Ben Street. "Ben is the name of my late father and my late younger brother and one of my dogs. So I knew she was right before I ever met her."
A slightly more substantive connection between them had to do with the fact that Cole originated the role of Maggie in none other than "A Chorus Line" 30 years ago. Francis was a kid from Tennessee then -- as he describes it, "a gay guy in a very not-friendly environment for people who are gay. And I went and saw this show in New York."
There he heard Cole sing "At the Ballet," which includes the lyric, "`Diff'rent' is nice, but it sure isn't pretty. /`Pretty' is what it's about. /I never met anyone who was `diff'rent' /Who couldn't figure that out." Those lines spoke to Francis' own sense of difference. "And all these years later, to meet the woman who sang [them] -- we're just simpatico," he says.
"Bark!" has been running at the 99-seat Coast Playhouse in Los Angeles. The Chicago version will include new songs and something else the California production doesn't have: a storyline, written by lyricist Dillard. "The show in Los Angeles [is] 95 percent music, if not more," says Francis, with each song standing alone as a vignette from the life of this or that Everydog.
Audiences here will see a more specific group of dogs relating to one another in a more sharply defined, and harrowing, environment.
That's the hope, anyway. "We're going to New York next year and we wanted to see the viability of it," says Francis. "I don't know how excited we should be but we are thrilled."
"We're thrilled," Cole echoes. "I think we can be thrilled."
`Bark!'
When: Friday through Jan. 8
Where: Chicago Center for the Performing Arts, 777 N. Green St.
Price: $45; 312-733-6000
----------
onthetown@tribune.com