Bark! unleashed in Chicago is a face-licking treat. Bow Wow!
Bark! paws into your heart. It howls and scratches and wags it's tail. Bark! has the dog's perspective on the world, man and life. The sextet playing the lovable pooches proves that, indeed, dog is man's best friend. This polished Equity musical features witty canine-inspired lyrics by Gavin Geoffrey Dillard and a varied mixture of Broadway styles with a touch of classical music by David Troy Francis. This is a fun, almost family friendly (there are two 4-lettered words that need to be deleted) and they need to lower the volume on the three-piece band (especially the percussion) so it doesn't drown out the singers. Once those adjustments are made, Bark! will become a joyous treat.
Bark! takes place in a kennel as six dogs await adoption. Rocks (the lovable baby-faced Devin DeSantis) is a puppy Terrier/Pug mix longing to be pared with a little boy. Cagney (the commanding, silver-voiced Mary Mulligan) is a retired K-9 German Shepherd police dog. Ben (the empathetic and tender Stanley White) is a Labrador Retriever and former seeing-eye dog. Chanel (Cory Goodrich) the sexy snobbish cultured dog with the fine pipes is a Standard French Poodle. Sam (Tony Barton is earthy, sexy dressed in black leather) is a Pit Bull Terrier/Chihuahua mix. Boo (the lovely, sparkling Sharon Muthu) is Cocker spaniel/Dachshund mix. We easily care about these love starved pooches.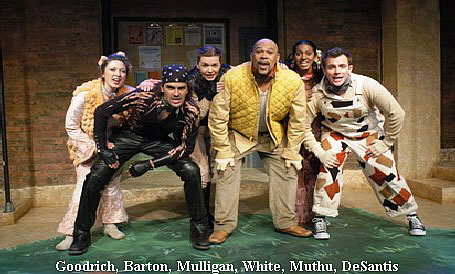 From the opening number, "Gotta Get Picked" we quickly take to Rocks, the cute little puppy. The "Whizzin' On Stuff" funny number shows the functional side of the dogs. Songs like "Three Bitches," "I'm in Love with Lassie" and "Howling Just to Scare Away the Blues" introduces us to the foibles of each hound.
Dogs sure come off as man's best friend here. They are also funny, witness the cleverly sung and howled tune "Siren Symphony" and the show stopper, "Dirty Filthy Old Flea Bag" will leave you scratching with joy. The cute "Chasing My Tail" featuring the adorable Devin DeSantis as the pup and the terrific rousing finale, "Bark!" will leave you racing home to pet your canine. You might even give him a nice belly rub. Bark! is fun, sings and dances nicely. The sextet works hard and delivers everything the material offers. You'll be glad you sniffed around in this kennel---it's full of precious animals.
Recommended
Tom Williams
Tom99@chicagocritic.com for comments
Chicago Stage Talk Radio Show
This show is eligible for a C.S.T. Equity Theatre Award
October 22, 2005