Chicagoland Tails Pet Magazine
Celebrating the relationship between Pets and their People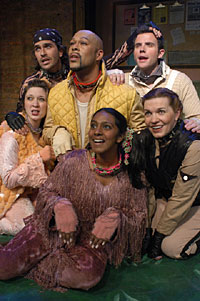 Howl-lelujah Bark! the musical makes its Chicago debut, leaving no paw unturned.
By Jason A. Heidemann
The perfect holiday treat arrives in the form of a runaway smash musical named Bark!, which made its debut in Los Angeles last year and has been selling out ever since. The story of six shelter dogs hanging out and waiting to be adopted recently began a six-week limited engagement at the Chicago Center for the Performing Arts' Studio Theater. Tails asked composer and show creator David Troy Francis to give us the dish.

Tails: How has the response been since Bark! made its debut in Los Angeles in 2004?
David Troy Francis: The most common comment we receive is, the show "makes me want to go home and play with my dog." We are aware that a number of dogs that have been adopted because of Bark! and hope to help find loving homes for thousands more.
Tails: What gave you the initial idea for Bark!?
DTF: I was asked to compose music for a "mocumentary" entitled Dogs. I loved the songs so much I began exploring the idea of a musical from a dog's point of view and was delighted and surprised to find no one had ever done this before.
Tails: Do you have any pets of your own?
DTF: My partner and I have two dogs and two cats in our household and love all animals.
Tails: Why did you choose to make the musical about shelter dogs in particular?
DTF: We want people to become aware of the untold millions of dogs available for adoption and hopefully to look at these dogs in a more positive light.
Tails: The show encompasses many forms of musical genres, including rap, salsa, opera, and gospel, among others. Was it a challenge to write these different styles?
DTF: The show refl ects my own musical taste, which is eclectic. It is a challenge to fi nd the right song for the right moment, but no more or less challenging to compose than any song in any genre. It takes me awhile to get the music for any song right. My lyric-writing partner is much quicker than I am.
Tails: Bark! touches on many different themes, including pedigree dogs vs. mutts, puppies vs. senior dogs, how it feels to be abandoned by a caretaker, a humorous look at spaying and neutering, shelter life, and even euthanasia. Was there a conscious attempt to get audience members to think critically about some of these issues?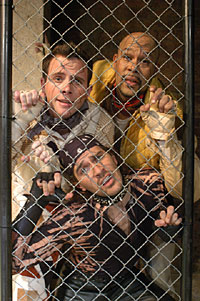 DTF: I believe a song such as "Useful" [about senior dogs] is applicable not only to dogs but also to humans. Our society doesn't seem to value age or the wisdom that sometimes comes with it, be it in dogs or people. Older people often are treated as if they are not even there. Older dogs are often euthanized because the shelters are cognizant they are less likely to be adopted. [So] to answer your question, yes, we wanted to try and make people aware of these issues, but I also very much hope that people realize that these issues apply to other sentient beings and to humans.
Tails: The show plays to audiences of all ages and yet there are a couple of adult-themed moments. Was this at all diffi cult to navigate?
DTF: The show has been well received by children as well as adults. My partner, Michael, said this show is a "fairy tale for adults" that children also can enjoy. I fi nd the show's language cleaner that any elementary school's playground, and Bark!'s themes are more insightful and less insulting than many prime-time television comedies. I fi rmly believe this show speaks to anyone who is looking for a joyful, funny, and touching theatrical experience.
Tails: Have you received any positive feedback from non-dog lovers or cat people?
DTF: We have received tons of positive comments from cat people because the show speaks to people who love animals: dogs, cats, deer, or whatever.
Tails: It seems like these dogs are looking for love, companionship, and a place to call home, not unlike humans. Do you think these common threads are why people and dogs enjoy such a powerful bond?
DTF: Yes. Along with a dog's very special ability to love a human specifi cally, as well as exhibit other emotional qualities.
Tails: Do you have a favorite number in the show?
DTF: I love "A Grassy Field." Anyone who has ever been strong and loving enough to put down a beloved pet cannot help but fi nd this beautiful lyric by Gavin Geoffrey Dillard comforting and emotionally powerful.
Tails: Where will Bark! leave its mark next?
DTF: Bark! will open in NYC next year.
Bark! is playing at the Chicago Center for the Performing Arts' Studio Theater at 777 N Green St, in Chicago. Tickets cost $35-$45 and are available at www.BarkTheMusical.com or by calling (312) 733-6000.